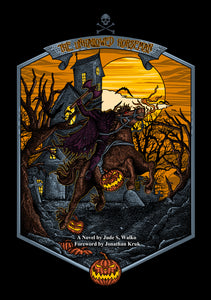 The Unhallowed Horseman by Jude S. Walko (paperback)
Regular price
$ 16.00
$ 0.00
Unit price
per
"A worthy homage to Washington Irving and his story 'The Legend of Sleepy Hollow'" - Elizabeth A. White


Set on All Hallows' Eve, the psychological thriller The Unhallowed Horseman takes place against the backdrop of a seemingly peaceful, picturesque American small town with an iconic past.

Generations of families have been living there with a deep and dark secret, one on the verge of reincarnating itself once again.
With the help of his newfound love for classmate Lorraine, Vincent navigates the treacherous obstacles in his life. Whether it be the overbearing no-holds-barred sheriff, his tempestuous mother, or the holier-than-thou townsfolk, Vincent seems to be under constant bombardment from prying eyes. What's more, Lorraine's overprotective father, Deputy Constance, suspects Vincent of having committed some heinous crimes.

Only after uncovering the town's history does Vincent begin to unravel its complex mystery and that of the people living there, including his own ancestors. Will he, like others before him, fall prey to an age-old curse passed down through the centuries?

The Unhallowed Horseman is a contemporary reimagining based on characters in the American classic "The Legend of Sleepy Hollow" by Washington Irving, the Father of American Literature.
"Presuming to speak for the man himself, I believe he would approve from the grave this dark, intriguing contemporary rendition of his beloved American classic!" - Master Storyteller, Jonathan Kruk

Content Warning: adult and derogatory language, gore, substance abuse (drugs and alcohol), uncomfortable sexual situations (one is non-consensual assault), death, child abuse, mention of pedophilic tendencies, mention of suicide.
AUTHOR BIO

Jude S. Walko, a member of the Horror Writer's Association, is also a film producer (Producers Guild of America), director, screenwriter, and actor (Screen Actors Guild). Among notable works is his 2018 award-winning film The Incantation, which stars former Superman Dean Cain. Walko won the 2018 Eclipse award for Best Direction, among several other awards, for the film.


Jude has been a lifelong fan of classic literature and has a special love of all things Washington Irving. He even owns a grave plot at Sleepy Hollow Cemetery in New York. Jude is passionate about Halloween, Tim Burton, stop motion animation, and all things dark and mysterious.
 
He spends his time between Los Angeles and Thailand, where his family now resides and has multiple film and writing projects in development.
---
Share this Product
---