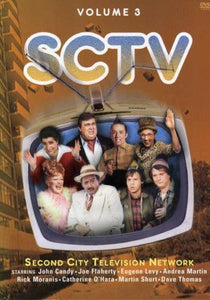 SCTV, Volume 3 - Network 90 (5 Disc Set)
Regular price
$ 59.97
$ 0.00
Unit price
per
This volume offers nine 90 minute shows from the fourth season to feed the demand for more SCTV. Broadcast on NBC in 1982, these episodes introduce new cast member Martin Short and Chronicle the height of success for characters Bob & Doug. It is here where the Shmenge Brothers (John Candy and Eugene Levy) make their first appearance and the Great White North gets the special Treatment in the "Great White North Palace" featuring Tony Bennett. Celebrities Bill Murray and Carl Perkins join the fray and musical guest Bennett, Jimmy Buffett and Hall And Oates offer classic performances.
The third cycle of SCTV's "Network 90" incarnation begs the question: Would success spoil SCTV? By this time, this Canadian cult favorite was flirting with mainstream success, with an Emmy Award for writing to its credit and nation-wide "Hoser-mania" triggered by the surprise breakout success of "The Great White North" segments featuring Bob and Doug McKenzie. But rather than sell out, SCTV stayed loyal to its smart muse. The first episode addresses the McKenzie phenomenon with "The Great White North Palace," the inevitable (and hilariously) ill-fated exploitation of the touque-wearing brothers. And, as Tony Bennett himself serenades the boys, "The Best Is Yet to Come." This batch of nine episodes includes brilliantly conceived sketches that deliriously push cross-parody boundaries. Taking its cue from Steven Spielberg's enhancement of Close Encounters, SCTV offers its own "Special Edition" of "The Merv Griffin Show," an old school talk show which somehow ends up in outer space with George Plimpton taking on George Lucas in an Atari vs. Intellivision video game battle (how '80s can you get?).
SCTV was at its best when skewering show business and television convention, as witness the lavish "People's Global Golden Choice Awards" (the Five Neat Guys' medley of faux motion-picture theme songs anticipates Billy Crystal's Oscar-night showstopper), and "The Battle of the PBS Stars," which pits Julia Child against Mr. Rogers in the boxing ring. This cycle also introduced the pitch-perfect soap-opera parody, "The Days of the Week" (former Second City member and Saturday Night Live superstar Bill Murray brings his considerable cachet to one installment), as well as the polka meisters, the Schmenge brothers (a classic sketch marred somewhat by the absence of "Stairway to Heaven," apparently due to rights issues).
Martin Short, momentously joins the seamless ensemble, and makes an instant impression, with such masterful bits as his devastating "Jerry Lewis Live on the Champs Elysees." Throughout, even when a sketch falls flat ("The Pre-Teen World Telethon"), the cast's commitment to character is exhilarating to watch. SCTV fans who have long suffered the show's intrusive laugh track will want to check out the bonus feature on disc 5, a 1997 reunion of the surviving cast at the Museum of Television & Radio. Rick Moranis reveals that the technician responsible was--no joke--a moonlighting chicken farmer who didn't get the jokes and was simply looking for lulls in which to place the canned laughs. Not even SCTV's brilliant writing staff could have made that up! --Donald Liebenson
---
Share this Product
---